Tamper-Evident Labels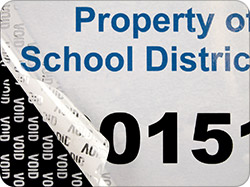 Void-Indicating Labels for Improved Security
Discourage theft and secure property with polyester tamper-evident labels. If the label is removed a repeating pattern of the word "VOID" is left behind on the surface of the labeled item. The "VOID" pattern is also evident on the removed label, eliminating the possibility of re-use.
Label Specifications
Material
 
.002" Polyester with premium acrylic adhesive. Clear polyester overlaminate protects the image from moderate abrasion and cleaning.
 
Colors
 
Custom colors are also available.
 
Sizes
 
2.75" x 1.25"
2.00" x 1.00"
2.00" x .750"
2.00" x .625"Other sizes available.
1.75" x .625"
1.75" x .500"
1.50" x .750"
1.25 x .500"
 
Artwork
 
Logos are reproduced with digital technology that ensures an accurate reproduction of the finest details of your art. You can also submit your own artwork for the entire tag design.
 
Fonts
 
Wide selection of available typefaces to choose from.
 
Data
 
Available with or without barcode. Standard barcode symbology is Code 39. Other available symbologies include Code 128, Interleaved 2/5, 2D Data Matrix and QR Code. Variable data can be produced from your defined sequence, or from data file you provide. Human-readable text matches barcode but can vary per your specifications.
 
Packaging
 
Rolls
 
Shipment
 
5 working days from approval of proof.
NOTE: Tamper Evident Labels and Tags are no longer available at Alliance. They are, however, available from Express (Our Parent Company). Take me to Express.