Customize Your Asset Tags
How to Customize Your Asset Tags
Design your own layout & send us a file.
Include Your Logo or a Graphic
Multiple colors, and brand color matching.
Barcodes: Code 39, 128 or Data Matrix
Choose from thousands of fonts
Aluminum or Polyester?
Many different sizes available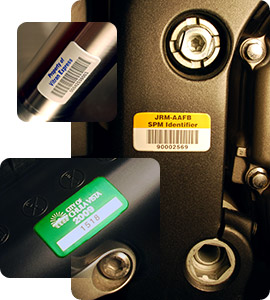 Do you want a custom design or size that we do not offer at Alliance? You can completely customize your asset tags at our parent company, ExpressCorp.com
The Basics, at Alliance
To simplify ordering tags for everybody, Alliance provides a concise array of basic options to customize an order. From standard colors, sizes and shapes to standard layouts and content,
If you wish to order high-quality asset tags quickly, use the Tag Designer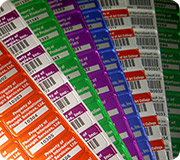 The Sky's the Limit at ExpressCorp.com
Your options are unlimited. At Express we're passionate about tags and labels of all sorts. Since 1984 we've aggressively expanded our capabilities — exploring new techniques and adapting to vital new needs. Every day, military, government, industrial and institutional organizations demand solutions to complex, real-world issues. Among the many products that we ship are warehouse labels, unique identification tags, environmental regulatory compliance labels and teflon-coated barcode tags. From rigorous technical specifications we create elegant products.
Call Us at (858) 549-9828
When customers want to customize their asset tags, we make it easy! Usually a simple phone call is all it takes. Tell us your needs, fax or email documents, or we'll tap into our extensive resources to determine the requirements. Then we crank out a proof for you to review. Once the layout is approved your asset tags are swiftly produced and delivered to you.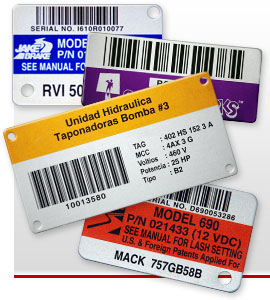 How would you like to customize your asset tags?
Size and Shape
Once again, anything is possible, but the tag material plays an important part. Metal tags made from aluminum must be die cut. If we don't have a die in our collection which matches your specs we'll have one made. Polyester and vinyl tags of unique shape and dimensions are significantly easier. For these flexible materials we'll often use a precision cutting laser with instructions from a vector-based digital file. We pride ourselves in finding an optimal balance between high quality and the most cost-effective solution.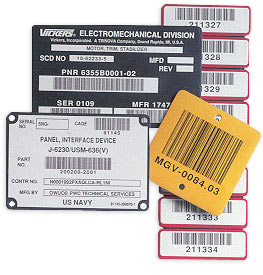 Tag & Font Color
Choose from a wide gamut of colors. Show us your logo or brand colors. Specify Pantone (PMS) colors or send us CMYK or RGB values. You can also show us a color somewhere that you like. We'll print metallic or fluorescent colors, smooth blends or photographic images.
Artwork & Logos
Labelling your assets reinforces your brand, so it's natural to incorporate your logo into your property tags. We work with a wide variety of common file formats to produce accurate prints of your logo or artwork. You can also send us the entire label layout as a file and we'll print it on the substrate of your choice.
Fonts
We have a vast library of typefaces we employ on a regular basis. If you have a special font we'd be happy to use it on your tags.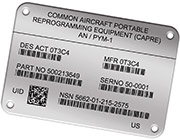 Numbers, Data and Barcodes
Most labels sport at least one number by default. Add more numbers to represent departments, sections or other classifications. Feature multiple barcodes for different tracking systems or procedures. Include blank fields for markings.
We can also produce variable data from your defined sequence, or from a data file.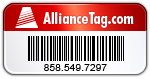 Unleash Your Imagination
You'd be surprised to discover that most of these customizations won't cost anything extra. We've found that making customers happy if the best business practice. In our quarter century of manufacturing tags and labels, most of our customers return again and again.
Give us a call at 858.549.9828 and we'll help you find your perfect solution!