Receive Product Sample for Evaluation
To inspect the quality of our products and test their suitability for your application please let us know the type of label or tags that you require and we will provide appropriate samples for your evaluation.
Use request fields below or call 858 549-7297. You can also email us at customerservice@alliancetag.com
---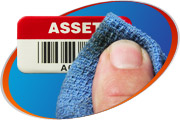 Superior Durability
Alliance Tag asset tags handles the toughest situations with grace and resilience, consistenly resisting intense heat and sunlight, powerful chemicals, vandalism, abrasion, and constant weathering.

Throw Some Elements Their Way
Earth, water, wind and fire - just a few of the common elements that assets encounter on a daily basis. Why lose control of your assets just because they face a rigorous environment? Our aluminum and polyester asset tags hold steadfast during an asset's lifetime despite the harsh conditions of life.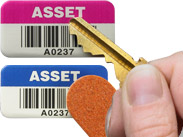 Tough Enough for Your Stuff
Forklift, iPod, printing press, work boot, computer monitor, metal lathe, furniture, circular saw - just a few of the common assets our tags are guarding like sentries everyday.